Upcoming Events and Awards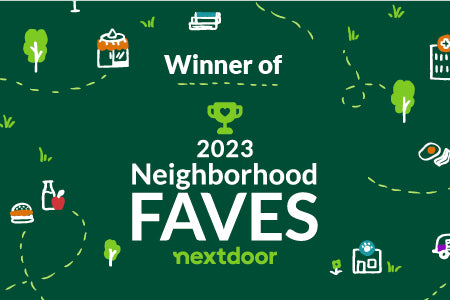 2023 Neighborhood Faves
We are so grateful to have been voted 2023 Neighborhood Faves on Nextdoor!
Thank you for all of the continued support from our communi-tea!
iN-TEA Nextdoor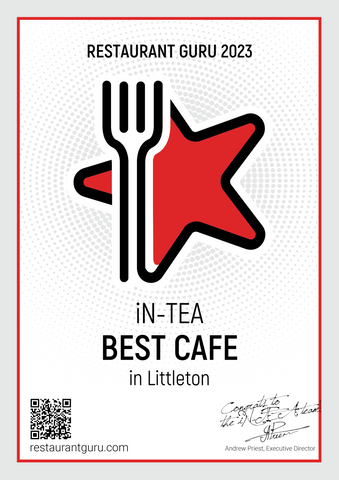 Best Cafe 2023
We are so grateful to have been voted Best Cafe in Littleton for 2023!
We ranked #1 out of 288 restaurants on Restaurant Guru. Thanks to our wonderful and supportive customers!
Thank you! We love our communi-tea!
iN-TEA Restaurant Guru Page
Care for your immune system as cold and flu season approaches
Find our Teas Featured at:
Wholesale Program
Interested in serving the finest in whole leaf, artisan teas at your coffee shop, salon, or restaurant?
Get in touch for more information!
Sales@in-tea.net
welcome to our shop! It's Our Happy Place.
Why "iN-TEA"?
When you think of tea, what do you envision?
Maybe a cozy morning inside with a book, your daily pick me up, a meet up with friends, the ritual of brewing, a comforting drink for a sick day… maybe a party with hats and gloves and little sandwiches? Do you see the leaves, the plant, the steaming water… or maybe ice cubes and a lemon wedge helping to cool you off in the summer? 
The beauty of all of this is, of course, that tea embodies all of this and more. There are so many feelings that can be summed up, iN-TEA. You can find company, solitude, comfort, routine, spontaneity, energy, relaxation, complexity, simplicity, focus, healing, knowledge, history, adventure, and so much more, iN-TEA. The art of tea is so diverse and expansive. There is a passion you can taste in each different form.
Whether you're a connoisseur with a love for the finest leaves, a boba fanatic who wants to try every flavor, or you've only had coffee every day of your life, there is something for everyone, iN-TEA. 
Happy Sipping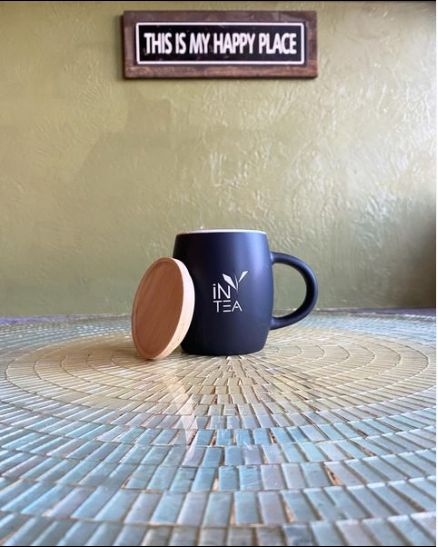 Testimonials
Oh man this place is heaven for a tea lover. The way they made up this place is adorable and impressive. The giant wall of tea is almost a little intimidating to look at when you start out because there are about a zillion and a half choices, but I don't think I've ever had someone behind the counter who wasn't eager to help me out. I have my favorites now that I buy in bulk because I get like 20% off and it fills up my punch card to get free drinks when I come in. They have a cool little bar where they make infused tea cocktails. Truly love love love this place! 

Deborah M.
Don't let the massive tea wall overwhelm you when you walk in! If you're like me, an inexperienced tea drinker, you may wander into this little shop and feel like you are out of your league. Talk to the friendly staff here, and they will help you find a tea that's right for you!

Ashley R.
Sweet tea house for the experienced tea drinker! They have over 170 flavors of tea and too many to choose from. They do ship out of state and the employees are super sweet. They took the time to educate us when I told her we had never visited.

Anna F.
If you love tea, you'll have stars in your eyes here. Wall-to-wall tea in every flavor you can think of and more. They run specials so keep your eye out. There's a small dining room where they serve chilled drinks and sandwiches, as well as tea-swag. I could swear I also saw booze behind the cash register? Go get your drink on in more ways than one!

Laura L.
A real gem in downtown Littleton, right next to Littleton Town Hall, performing arts center. Located on the south side of Main Street, between Prince Street and Nevada Street.  Grab some free street parking, a friend, and a pot of freshly brewed tea and you're in for a relaxing treat.  Staff is super helpful in assisting you in choosing just which tea is right for you! Be sure and ask for a "punch card" because one visit just won't be enough!  Delightful!

Heather W.
I am in this place all the time and I can honestly say this is the best tea you can get in littleton! The staff is very friendly and helpful for those who don't have much experience with tea. There are so many unique different kinds of tea you can choose from and lots of things you can add to your tea! They also have alcoholic tea beverages! The prices are very reasonable and I recommend this place to everyone! My favorite drink is a cocoa maté with sweet milk and caramel.

Karlee S.
I am obsessed with In Tea, and it pains me to not live in the Denver area because I wish I had a place like it nearby me so badly. The staff is absolutely incredible, better than probably any staff you'll encounter at any other cafe-like business both because of their knowledge of teas and their unmatched friendliness. I can't wait to come back here again!

Zarrie S.
This is one of the best places to visit. To escape. To have great conversations. To be educated. The owner is absolutely amazing and she has the best staff. The entire environment of the shop is amazing! Its classic and modern, the retail inst over priced and in my opinion the quality of tea you get here is better than any other place in Colorado! In-Tea has made me a Tea Snob!

Ashley B.
You will not find more knowledgeable staff who truly are passionate about tea and sharing that passion with their customers; resulting in the BEST customer service, guarenTEAed... Not only do they serve the best tasting tea, at the cheapest price in the whole Denver area, (trust me, i've shopped all of them), but you'll get the best service as well.

Anonymous
PRIVATE EVENT BOOKINGS
We are currently accepting private event bookings!
Reserve our back room for a private party. It seats up to 16.
During regular business hours: $100 for the first hour; $75 for each additional hour + 20% gratuity
After regular business hours: $275 for the first hour; $100 for each additional hour + 20% gratuity
CONTACT US:
By Phone: (720) 981-2512
By Email: sales@in-tea.net
Address: 2440 W Main St, Littleton, CO 80120
HOURS:
Sun - Thurs 9am-6pm, Fri & Sat 9am-8pm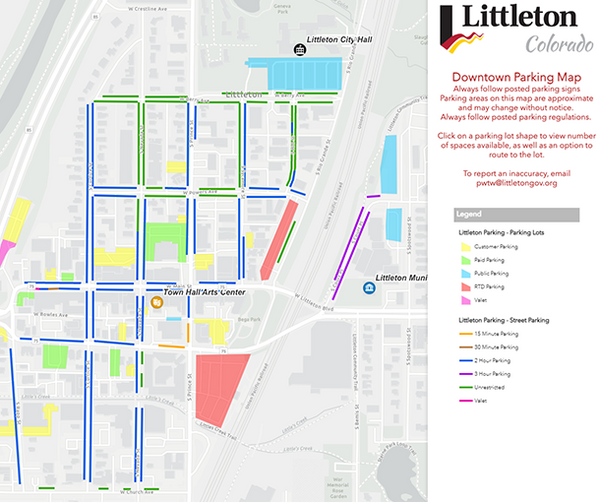 Downtown Littleton Parking
Check out the Downtown Littleton Parking map to find the best places to park!
Live Parking map